Our Columbus, Ohio Bartending School:

Columbus Bartending School is a member of the PBSA - Professional Bartending Schools of America, which is a nationwide network of 28 schools. PBSA has partnered with Columbus area bartending schools since 1994, and we are the only PBSA authorized school in the greater Columbus area. PBSA has a job placement network of over 75 schools across the US for placement assistance for our Columbus graduates.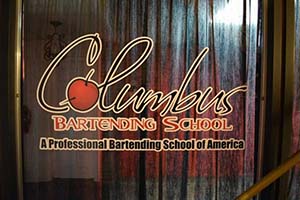 Our newly renovated state of the art bar room setting in Columbus has a fully equipped full-service bar, side-service bar with all the equipment you need to become a successful bartender. Students are taught the art of mixology in a classroom designed to simulate a real bar environment. The campus consists of 1400 square feet of classrooms and offices in a well light safe area with ample parking and is convenient to public transportation.
The campus prides itself on its low student to instructor ratio. This allows the instructor to give each student plenty of one-on-one instruction, and any special help that may be needed. Only the best trainers are selected as Columbus Bartending School Instructors.
Each of our graduates is eligible to use our nationwide job placement assistance program. With 90 other campuses around the United States, we are the nation's largest group of independently-owned bartending schools. And the best part is that our job placement never expires!

Click HERE to see our new classroom photos!
You must be 21 to bartend in the State of Ohio. However, you can attend our school at the age of 18 if you are planning on relocating to a different state (where you are allowed to bartend at the age of 18) using our Nationwide Job Placement Program!
We recommend that before enrolling in any bartending school, that the prospective student take a personal school tour of the school and meet the staff. The school owners of Columbus Bartending School work in the school every day. They are always there to help assist any student at any given moment. Remember when getting an education, cheapest is seldom best!
You can earn your tuition back in your very first week or two in your tips alone.
The PBSA campus in Columbus has been featured on television stations including NBC, WWHO, FOX 28, FOX Sports News Network, ESPN, ESPN II, Comedy Central and The Big Ten Network! They have also been featured on local radio stations including WNCI, WCOL, The Brew, CD101 and The Blitz. You might have even seen there ads in The Other Paper, OSU Lantern, Employment Guide and The Columbus Dispatch.

If you eat and drink in the greater Columbus area you have probably been served by one of the approximately 6,000 PBSA Columbus graduates. If you are thinking of attending a bartending school, give us a shot!